Downeys Nissan Laois Senior Cross Country Championships 2017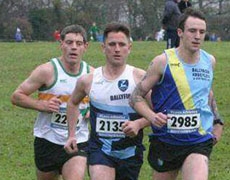 The final day of the Laois Cross Country Championships took place in Cosby Hall in Stradbally on December 3rd, this time the big one – the turn of the Seniors.
Perfect conditions awaited the runners, mild with not a puff of wind unlike other years when the gales and rain blew hard.
The Club had a record 11 runners out for the event, and for their efforts took home the team bronze medal. Individually Colin Maher ran another great race and was toe to toe with Portlaoise's Lupton who, on this occasion took the spoils with Colin in second place. David O'Mahoney, in his first Senior Cross Country race, came home a fine 6th place with Riobard Miller in 8th position. 3 runners in the top ten! A fine run by all saw the team take the bronze with Ciaran Fitzpatrick in 16th place, Cormac Fitzpatrick in 24th and Shane Delaney in 25th making up the 6 team scorers who totalled 81 points behind St Abbans on 60 and Portlaoise on 46.
The rest of the Ballyfin runners were Tony Cox (27), Andrew Kehoe (29), Tommy Looney (31), Stephen Bland (32) and Mike McCarthy (37).
Some more photos from the Laois Athletics Facebook page;