Streets of Portlaoise 5k 2017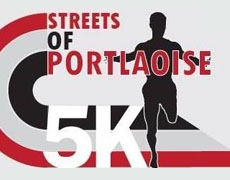 Well done to the organisers of the Streets of Portlaoise 5k today on organising another very successful event.
The mens race was won by Brian Maher from Kilkenny City Harriers in 15:02 and our own Colin Maher came home in 4th place in a time of 15:12. Ciaran Keenan came home in a time of 17:40 to take 33rd place. Dearbhail Cuddy ran a great race to come home in 105th overall in a time of 21:06 and coming home as the 4th Junior Female was a great achievement. Megan Adams was 18th in the same category in a time of 28:16, well done Megan.
Shane Conroy, running in the Junior Boys category. came home in 180th overall in a time of 23:43.
Heather Bloomfield also ran a fine race to come home in a time of 26:50 in 295th place overall. Super stuff!
Check out the 2017 Streets of Portlaoise 5k Results here.